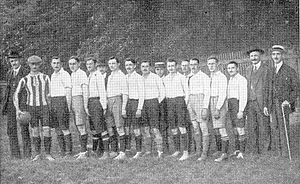 Posts

13

Joined

Last visited
Fußball, Hobbies, Allerlei
Am Wochenende trifft man mich...
Geilstes Stadion
Lieblingsspieler

Rene Schicker, Roger Ljung, Tomaz Iwan,JezekPatrickJezek, Dani Toth

Bestes Live-Spiel

Admira-Rapid , Admira- Austria Lustenau

Lieblingsverein
Recent Profile Visitors
The recent visitors block is disabled and is not being shown to other users.
Herr B's Achievements

Anfänger (1/41)
13
Reputation
Interessanter wäre https://www.transfermarkt.at/matthias-seidl/profil/spieler/526895 Erstes Profijahr und im Sommer Ablösefrei

Die Juniors besiegen Bruck 3:4 in Unterzahl. Doppeltorschütze Gattermayer. Die Tore zum 2:3 bzw 2:4 dürften in Unterzahl geschossen worden sein.

Die Juniors begannen mit: Belmin Jenciragic, Matthias Ostrzolek, Marco Kadlec, Julian Buchta, Angelo Gattermayer, Isuf Ajradini, Mamina Badji, Felix Holzhacker, Marco Wagner, Rene Hellermann, Patrick Obermüller (K) 0:1 Buchta 7min 1:1 Badji 17min 2:1 Ajradini 25 min 3:1 Gattermayer 43min

Hat jemand eine Ahnung was mit der Neuerwerbung Patrick los ist. Verletzt? Zu schwach?

Die Juniors verlieren durch ein Gegentor in der 89 Minute von Manuel Gager gegen TWL Elektra 1:0. Juniors begannen mit: Admira Juniors: Belmin Jenciragic, Paul-Friedrich Koller, Julian Buchta, Tin Vastic, Angelo Gattermayer, Mamina Badji, Kevin Sostarits, Felix Holzhacker, Marco Wagner, Rene Hellermann, Patrick Obermüller

Ligastart gegen TWL Elektra Sa, 31.07.2021 | 16:00 Raxstrasse 3 1100 Wien Einerseits wird gesudert das Amateurteams keine Zuschauer bringen andererseits ist der Anpfiff 1 Stunde vor dem in der Südstadt.

Eher Glück gehabt das Fredriksen so einschlägt. Aber Glück muss halt teilweise erzwungen werden. Vielleicht haben wir ja mit Mustapha ähnliches Glück.

Wäre interessant wenn Eminem und Petlach eine Chance in Würzburg erhalten würden. Aber hätte hätte Fahrradkette.

Hat jemand einen Livestream??

Quelle: Krone Print Edit: Hab eine Kleinigkeit überlesen. Die Landesverbände haben sich geeinigt

Die Rlo wird auf 16 Mannschaften Aufgestockt. Rapid Amas steigen auf in Liga2. Von den LL steigen die Gewinner aus Deutschkreuz/Siegendorf, Krems/Kottingbrunn und Elektra/Vienna auf.

Es ist leider wie es ist. Wir können daran nichts ändern . Hat jemand eine Ahnung ob Hausjell bei uns mittrainiert , vielleicht bekommt er jetzt noch eine Chance wenn EB weg ist. Hat mir in Horn gut gefallen.

Ich weiß nicht so recht was ich vom Major Transfer halten soll. Der erste Gedanken war Oida bitte nicht. Nach ein paar Tagen bin ich der Meinung geht okay, solang er nicht als 1er oder 2er Stürmer eingeplant wird sondern für die letzten 10 Minuten bei einem 0:1 Rückstand. Winters Plus er kann als Motivator und Antreiber bei unseren jungen und Amas sicher noch ein paar Prozent heraus kitzeln und ihnen zeigen dass Talent nicht alles ist sondern auch harte Arbeit dazugehört.